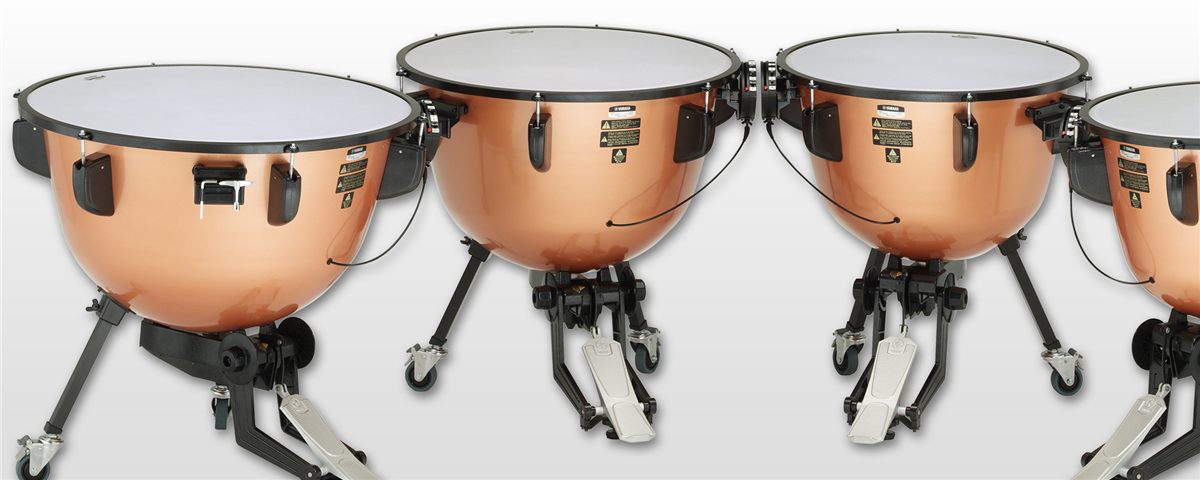 TP-3300 Series
Pedal Timpani
Aluminum Bowls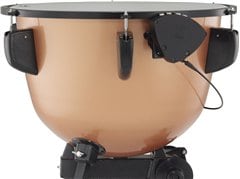 The TP-3300 Series timpani employ aluminum bowls with the same shape as the top-line models (TP-7300/TP-6300/TP-4300 Series).* In depth research into the effects of bowl edge angle and the dimensions of the openings in the bottom of the bowl have resulted in designs that bring out the most desirable characteristics of the aluminum materials used. * The TP-3326, TP-3329, and TP-3332 bowls are 40mm, 25mm, and 45mm shallower than the previous series, respectively. The dimensions of the bowls have been carefully designed to allow even beginners to bring out the full sonic potential of these instruments with ease.
Yamaha Remo Renaissance Heads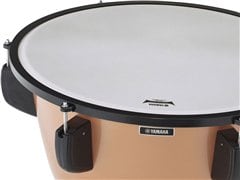 Yamaha Remo Renaissance heads with aluminum insert rings offer outstanding expression with stable pitch and excellent durability.
Hoops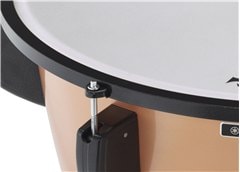 The TP-3300 Series is equipped with the same hoops as the top-line models, offering high rigidity plus improved integration between head and bowl that brings out the instrument's full sonic potential.
Compact and Portable

The lightweight aluminum bowls and the ease with which the pedals and legs can be retracted make the entire system conveniently compact and portable. [Overall size when folded for transport (W x D x H)] TP-3323: 73 x 82 x 60 cm, TP-3326: 80 x 85 x 60 cm, TP-3329: 88 x 89 x 63 cm, TP-3332: 95 x 93 x 63 cm
Casters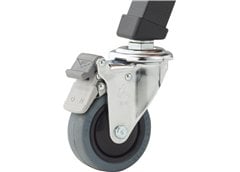 New, larger casters make it easier than ever to move the instrument around. New caster locks have also been implemented to prevent movement when the pedal is operated. * Caster diameter has been increased from 50mm to 75mm.
Pedal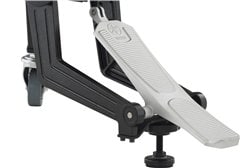 Smoother, more stable pedal operation when playing at any pitch has been achieved through a new optimized spring design.
Height Adjustment

The ability to adjust the length of the legs and therefore the height of the bowl makes it easy to set the instrument to the most comfortable height for individual players. The leg pipes have been changed from a round to a square cross section that prevents rotation during adjustment, making the adjustment procedure considerably easier. The leg bolts have been made easier to tighten as well. The stopper below the pedal has been redesigned so that it comfortably fits the hand. * Head height adjustment range: 79-82 cm
Tuning Indicator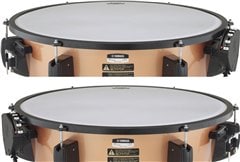 The TP-3300 Series comes with the same tuning indicator that is supplied with the top-line models. The indicator rail and pointer are carefully constructed of materials that contribute to smooth operation without producing noise. The indicator can also be easily relocated to the left or right side of the instrument to facilitate German or international setups.