Dante merupakan teknologi jaringan audio yang dikembangkan oleh Audinate. Perangkat Dante di jaringan yang sama akan mendeteksi satu sama lain secara otomatis. Hal ini dapat menyederhanakan pengaturan sistem sehingga mengurangi kerumitan dan potensi kesalahan. Dengan begitu, Dante dapat dianggap sebagai teknologi jaringan plug-and-play.
Panduan ini berfokus pada desain jaringan ketimbang spesifikasi dasar produk individual dan jaringan Dante.
CL/QL Series Online Seminar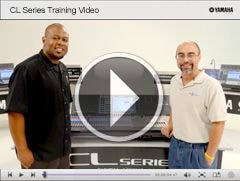 Experience our CL/QL series training seminar online!
The features and functions are explained by Leland Green and Jose Perez - top two of the most experienced trainers of Yamaha digital mixing consoles. You can follow the contents in order, or choose a paticular video focusing on a topic.
[Notes:] These videos were created using CL Series firmware V2.0 and QL Series firmware V1.0. The latest specifications are subject to change with future firmware update.
* The subtitles are available in English, Spanish, Russian (partly), Chinese, and Japanese. If your language does not appear, click the menu button at the bottom-right of player and choose it.
2. System Configuration - Basics
3. Console Operation - Basics
4. Console Operation - Advanced